Media release: Swiss start-up uses physics to make Easter bunnies shimmer in rainbow colors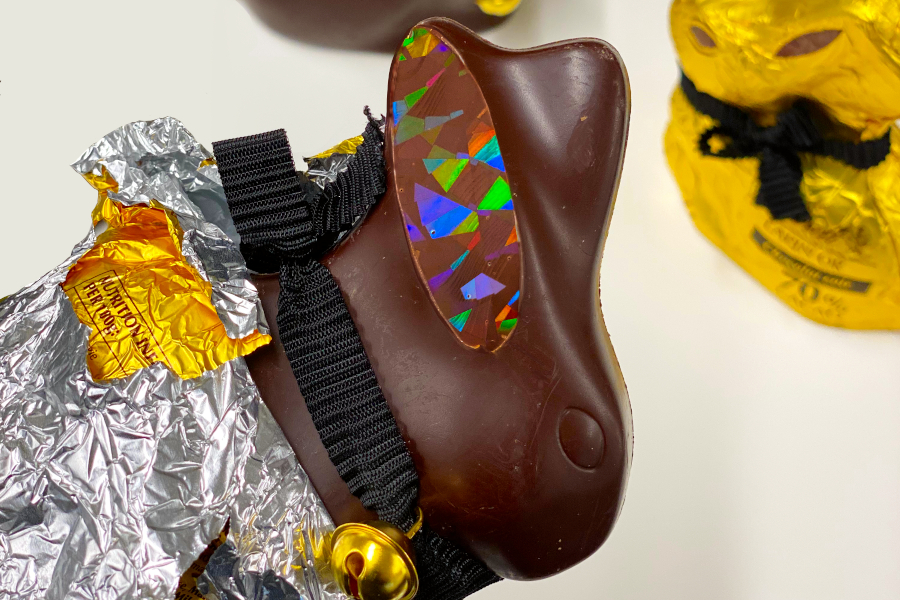 Adliswil, March 1, 2021. The start-up ChocoFoil has developed a physical process to transfer ultra-fine, light-diffracting structures onto the surface of chocolate bunnies to create amazing color effects – completely without additives or loss of quality.
ChocoFoil was founded in Adliswil in autumn 2020 by the two brothers Sandro (TV chef) and Marc Zinggeler (scientist) and a mutual friend, and has been turning the world of confectionery upside down ever since. Their technology is based on a food-safe film with ultra-fine, light-diffracting surface structures, which are transferred onto the chocolate by a "stamping" process. Depending on the viewing angle, the chocolate shimmers in different rainbow colors, which is caused solely by the structures transferred by the foil, i.e. completely without the addition of colorants. Such physical color effects are also found in nature. For example, they give certain butterflies their magnificent wings.
This Easter, a limited edition of the "Rainbow Bunnies" will be available through the company's web store. However, the start-up aims to work with chocolate manufacturers and retailers to make their products available to a wider audience in a timely manner. In addition to the chocolate bunnies, the company is already working on other colorful glittering treats.